---
Healthy and low calorie Blueberry and Oat Crumble Bars that are a great sweet treat for sustainable weight loss. These blueberry bars are made with greek yogurt instead of traditional butter or margarine--cutting the total fat content down significantly. Have these amazing blueberry bars for breakfast, snack or dessert.
---
Let's Talk About What Makes These Blueberry and Oat Crumble Bars so Amazing!
Blueberry bars for breakfast, blueberry bars for snack, blueberry bars...All. Day. Long. This blueberry and oat crumble bars recipe is literally perfect for almost every meal. It's as if you could live off them, and it's hard not to. They're just so amazing in so many ways, they're:
Healthy
Crispy
Chewy
Flaky
Buttery--without the butter!
Gooey
Sweet
Tangy
Low calorie
Low fat
Now, if all of those reasons don't have you eager to try this recipe, then we don't know what will!
What makes this Blueberry Oat Bar recipe healthier?
This recipe is healthier because it calls for greek yogurt instead of butter or margarine, which you would typically use in a traditional blueberry oat bar recipe. We also swapped out the white granulated sugar with Splenda--a calorie/sugar free sweetener. These two healthy swaps lower the overall caloric density and can be a great alternative for people who are trying to get healthier and/or lose weight. Furthermore, without cutting out entire food groups and the foods you love.
Some may argue that sugar free sweeteners are not healthy. However, The American Heart Association (AHA) and American Diabetes Association (ADA) have "given a cautious nod to the use of artificial sweeteners in place of sugar". Though, not a complete magic pill to weight loss, the AHA and ADA claim that calorie free sweeteners can "help reduce added sugars in your diet, therefore lowering the number of calories you eat which could help you attain and maintain a healthy body weight and thereby lower your risk of heart disease and diabetes". Read more about the precautions and health benefits of artificial sweeteners here or speak to a registered health practitioner.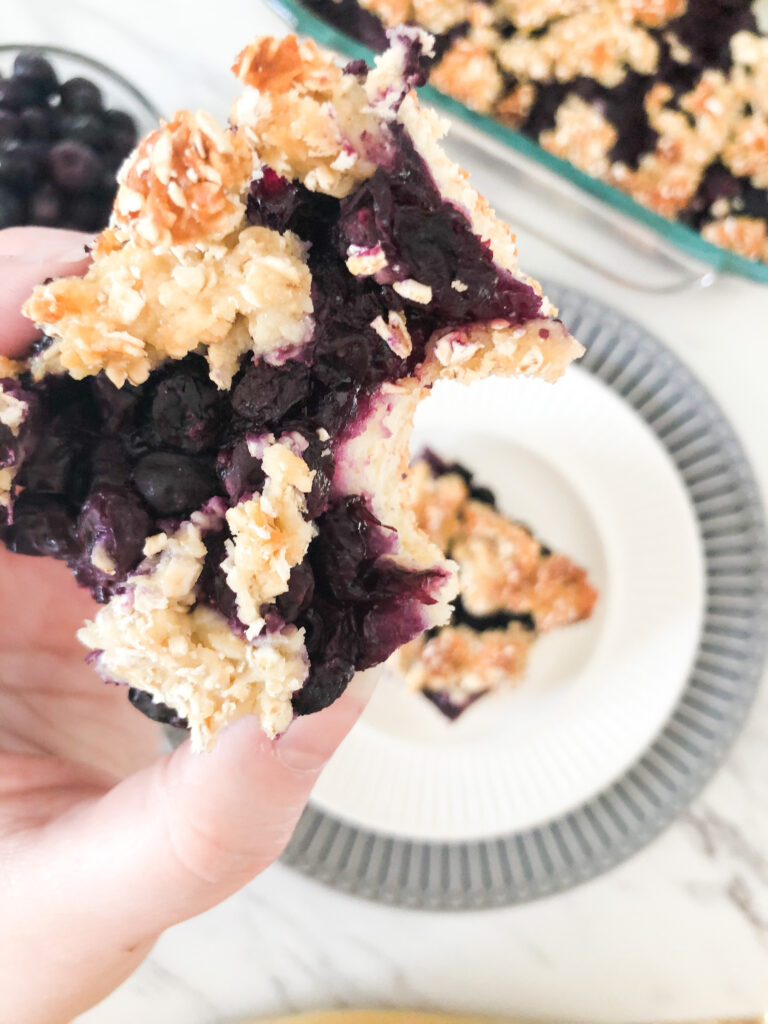 Check out some other healthy recipes:
Tzatziki and Feta Chickpea Burgers
---
Please leave me a comment if you made this recipe and don't forget to share a picture of your creation with @Fiftyshadesofyumm on Facebook and Instagram using #Fiftyshadesofyumm. 
ENJOY AND HAPPY COOKING!
Blueberry and Oat Crumble Bars
A sweet and tangy blueberrry layer sandwiched between a chewy sweet pastry layer and a crumbly oat topping. This recipe yields a healthy and delicious dessert without all the fat and calories you would find in a typical blueberry bar.
Ingredients
Blueberry Filling
2

cups

Frozen blueberries

defrosted

2

teaspoon

Corn starch

1

tablespoon

Lemon juice

¼

cup

Splenda (or any white granulated sugar/sweetener)
Bottom Layer and Top Crumble
1 ¼

cup

Flour

½

cup

Splenda (or any white granulated sugar/sweetener)

¼

teaspoon

Baking powder

½

cup

Plain greek yogurt

1

large

Egg

1

tablespoon

Brown sugar

½

cup

Quick oats
Instructions
Preheat oven to 375 F and grease an 8x8 square baking dish. Line with parchement paper making a 3 inch overhang.
For the Bottom Layer
In a medium sized bowl add the sweetener and then sift in the flour and baking powder. Mix together with a fork.

Cut in the greek yogurt and egg using your fork until the mixture looks crumbly. Separate ¾ of mixture into the greased/lined baking dish and pack into an even layer with your hands. Set remaining ¼ mixture aside.
For the Blueberry Filling
In a medium bowl add the blueberries, corn starch, lemon juice and sugar then mix well. Pour into even layer over the bottom layer in the baking dish.
For Oat Crumble
Return to the remaining crumbly mixture and add in the brown sugar and oats. Mix everything together again using a fork. Mixture should remain relatively crumbly. Crumble liberally over the blueberry layer using your hands.

Bake in preheated oven for 45 minutes. Remove from oven and let cool completely in fridge (approx 2-3 hours) before cutting and serving. Use the 3 inch overhang to remove the bars from the baking dish and then cut.
Notes
You can use regular granulated sugar in place of the Splenda; however, this will significantly increase the calories in the bars.