---
This Mango Salsa Chicken Meal Prep is exactly what you need if you're looking for something quick, easy and healthy to look forward to! This recipe yields four fresh meals for you to eat throughout your busy work week. The mango salsa is tangy and sweet and pairs great with the perfectly baked and seasoned chicken breast. Add in some rice and avocado slices and you've got a perfectly balanced meal to keep you satisfied!
---
I don't know about y'all but I love meal prepping! Why? Well, who doesn't want ten more minutes of pushing that snooze button? Without meal prepping it seemed like every morning was one of two scenarios:
Wake up late and run around the kitchen like a chicken with their head cut off trying to slap literally anything together for lunch. I can confidently say this method left me highly disappointed in the lunch room most days. I'd also be lying if my frantic lunch choices wouldn't raise some eyebrows from coworkers. Yes, Karen, I'm really eating a cheese slice and a piece of bread for lunch.
Wake up late and skip lunch all together because I am running out the door and just don't have a minute to spare. This one usually resulted in me either going the whole day without food (horrible, I know), or going out for lunch.
Trust me, when I discovered meal prepping it literally changed my life and I actually look forward to my lunch everyday. Not to mention, I can feel more in control of what is going into my body--don't forget the huge increase in energy!
Let's talk about what makes this Mango Salsa Chicken Meal Prep so amazing!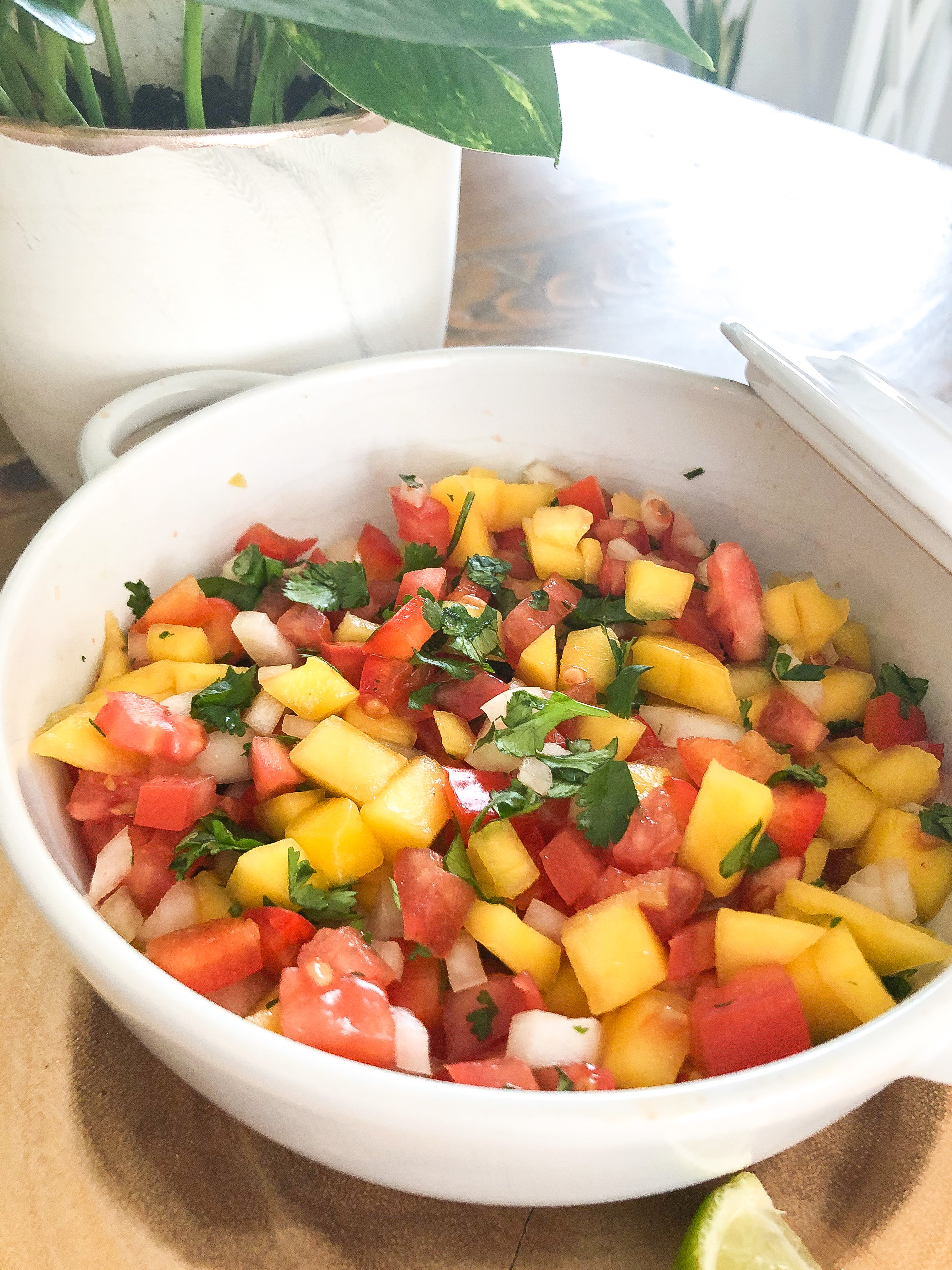 The true star of the show is the Mango salsa! It is the perfect balance of sweet (from the mango) and savoury (from the onion and cilantro). The chicken balances it all out with a touch of saltiness to make it super delicious and satisfying! You may even find you don't have to reach for a sweet treat to balance out the saltiness afterwards. Also, did I mention how much time you save? A full weeks worth of lunch prepped and cooked in under 30 minutes?! YES PLEASE!
Simple and Versatile Ingredients with low prep time!
Ingredients:
Mango
Red or Orange Bell Pepper
Tomato
Onion
Cilantro
Lime
Chicken Breast
Taco Seasoning
Rice (Optional)
For the salsa: Dice the mango, bell pepper, tomato, onion and Cilantro. Toss the diced fruit and veg in a medium bowl in the juice of half of a lime. Thats. Literally. It!
For the Chicken: We are going to create a water based sauce to coat the chicken in. All you need is 6 tablespoon or one full packet of your favourite taco seasoning. Alternatively, make it from scratch using this simple DIY taco seasoning recipe from Gimme Delicious. Once you have your seasoning measure out in a small bowl add 2 tablespoon of water and mix until a glaze like consistency is formed. Pour over chicken, place chicken on a lined baking sheet, throw it in the oven at 425 for 24 minutes and DONE!
I love adding this to leftover rice! If you are feeling extra fancy and want to spice up your rice game just a little, check out this amazing Cilantro Lime Rice Recipe.
Check out some of our other recipes:
Vodka Penne Pasta with Chicken
---
Please leave me a comment if you made this recipe and don't forget to share a picture of your creation with @Fiftyshadesofyumm on Facebook and Instagram using #Fiftyshadesofyumm.
Enjoy and happy cooking!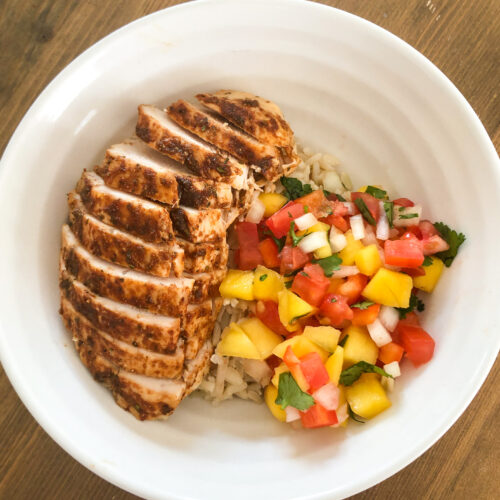 Mango Salsa Chicken | Meal Prep
A fast, easy, and healthy meal prep idea using fresh ingredients to keep you satisfied and energized throughout the entire week!
Ingredients
Roasted Chicken Breast
½

Lb

Chicken breasts

(Approx 2 large breasts)

6

tablespoon

Taco Seasoning

(1 Packet)

2

tablespoon

Water or Oil
Mango Salsa
2

Ripe Mangos

Diced

½

Cup

Tomato

Diced

¼

Cup

Red or Orange Bell Pepper

Diced

½

Small

Red or Yellow Onion

Diced

⅛

Cup

Cilantro

Chopped

1

Lime
Instructions
Preheat oven to bake at 425 F

In a small bowl mix the taco seasoning and water until the mixture forms a glaze consistency. Baste the chicken with the glaze and place on a parchement lined making sheet. Bake in preheated oven for 24 minutes flipping the chicken after 12 minutes.

In a separate medium sized bowl combine the diced mango, tomato, bell pepper, onion, and cilantro. Add in the juice from half of your lime and toss until coated evenly. Serve over cooked chicken and rice (Optional). Garnish with lime, cilantro, and/or avocado.